Mega Everdrive X7 (Cartridge Form) With Shell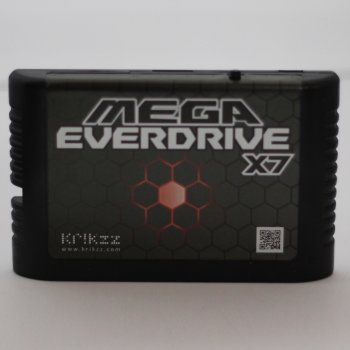 Product Code: 0071
Reward Points: 1300
Availability:

Out Of Stock
£134.99

Price in reward points: 130000
---
Tags mega everdrive, everdrive
The Mega Everdrive X7 is a Mega Drive Flash cart. Load Mega Drive and Master System roms from an SD card and play them on a Mega Drive or Nomad.
As a lot of you already know there have been quite a few Megadrive & master system games that have stopped working over the years. This is incredibly annoying when this happens and up until now there haven't been many alternatives other than emulation. The Mega Everdrive allows you to place roms and rom hacks onto and SD card and then play it on your Mega drive.
Features:
128mbit (16mbyte) PSRAM.
Supports 99% of games from SEGA library
120mbit (15mbyte) max ROM size.
Hardware MEGAKEY.
ROM sizes up to 120mbit (15mbyte)

256Kbyte Battery RAM

You can update the firmware through an SD card

Micro SD card is supported.

FAT32 is supported.

SD cards up to 32GB.
Cheats feature. Game Genie and Play-Action Replay format supported.

Very fast loading times around 1-2 seconds

Audio playback enabled. Supported formats are WAV, GYM & TFC

USB port for homebrew development and for the possiblity of future features.

In-game menu that allows you to access the Everdrive menu without leaving the chair.

Save and load states. (Snapshot Saves)

Regular game battery for backing up saves.

CD RAM cart feature.

Action replay and Game genie codes are supported

CD bios loading

Genesis, Mega-drive, Sega Master System, and 32X games are supported

Note: to play 32x games you must own the Sega 32X addon.
Review (of the older V1 model)
Related Products