GB Hunter Play Game Boy Games On A N64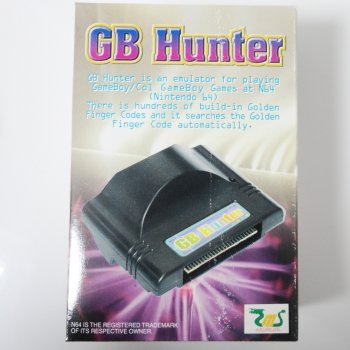 The GB Hunter N64 is an adapter for the Nintendo 64 that allows you to play your Game Boy Original games on a N64.
Note: The sound from the Game Boy game is replaced with the GB Hunter theme tune.
Note: Game Boy Color games are not supported.
Note: Not all Game Boy Original games are supported.
Features:
Gold finger codes

Customises the colour of the game

Choose between 4 border styles

Zoom in and out of the game

Plays Game Boy games on Nintendo 64
Instructions
Plug a N64 game into the back of the GB Hunter with the game label facing upwards. Not all N64 games work. The best N64 game to choose would be Super Mario 64.

Plug a Game Boy game on top.

Turn the N64 on and wait for the GB Hunter logo to appear and then wait until "loading..." displays. If you don't see this, then please repeat the steps up to this point.

When the game is playing push L + R at the same time to bring up the menu.

Video Overview: