Supaboy Portable SNES & SFC (NTSC)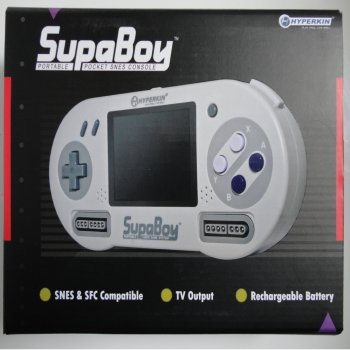 The Supaboy is a portable SNES console that you can use anywhere. You don't have to be in your house to play it.
Features:
Supports about 90% of NTSC games and 20% of PAL games.

2 controller jacks for connecting super nintendo and super famicom controllers.

rechargeable battery and Power adapter to charge it.


Note:

a step down converter is included for UK buyers. If you live in a different country you will need to source your own step down adapter as the device is made for USA mains plugs.

AV cable included for connecting to TVs also the output of the Supaboy is in 60hz so your TV will need to support 60hz to show the picture.

headphone jack so you can listen to the soundtrack without disturbing others around you

small bag include to put your Supaboy inside.
Note: The Supaboy is designed for playing NTSC games and only about 20% of PAL games work with the system. The games with no region lock work on the supa boy, but the majority of PAL games don't work. This device is reccomended for NTSC gamers.
Note: Around 90% of NTSC games are supported