Everdrive NES Review And Product Features
---
|

Posted on: 2013-11-12

|
Views: 10944
|
Category:

---
Krikzz the manufacturer of the Everdrive series of flash carts released the Everdrive N8 NES version in May 2013.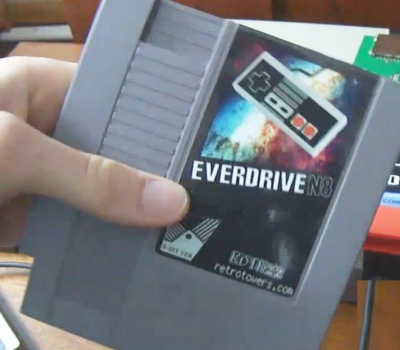 It is a flash cart for the NES that lets you play roms directly on your console without using an emulator. This means the game play is exactly the same as it would be when playing the real physical games. There is no need to worry about added lag, missing pixels, incorrect colours, high pitch music or any other problems that emulators sometimes have, because this uses the real hardware.

This is the exact same cart as the Famicom version of the Everdrive N8 that was released in February 2013. The only difference is one works with the NES and the other with the Famicom.
In the past if you wanted to play a Japanese game you would need to buy a Famicom especially just to play it, but with the Everdrive N8 you can just download the Japanese rom put it on the flashcard. Then you will be able to play it on the NES. There have been many fan translations created over the years where fans of various Japanese games have translated the game script into English, hacked the roms and changed the voices in the game to the English ones. Normally you would just have to use an emulator to play a fan translation, but Emulators aren't the same experience as playing the game on the console.
It is very useful for gamers with large collections of games and don't want to keep removing them in and out of their boxes every time you want to play a new game, as this can cause damage to your valuable collection. I find it to be a lot more convenient If you have your NES game collection on an SD card this could save you a lot of time when searching for a game to play and money by keeping your physical collection in the best condition possible.
It is very easy to set up. All you need to do is download the latest OS, unzip the folder and then put the folder EDFC on the root directory of your SD card. Then just download some roms. After this you are ready to play some awesome games.
I only recommend using it with games that you already have in your collection, rom hacks and homebrew.
Unfortunately this device isn't perfect and there are a few negative things about it. Not all games are supported and the menu has no colours.